Posted by Harper on Jul 21st, 2011 in Gauntlet Alliance, Heroes of Oz, Personal News, Uncategorized | 0 comments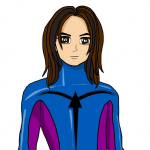 All right, so it's been a bad year. The last post talked about my father passing, and since then I've been in the hospital numerous times. Not my year. However, things have gotten better for us here at DSE, and we're on the track. Currently I'm finishing up Instant Oz so you can get a good taste of real Oz role-playing for free before Heroes of Oz comes out. I'm also putting together the Darkstar Universe Primer, an introduction to our in-house supers universe. Ideally, Heroes of Oz will be out before Christmas. That's our goal. You've been patient with us,...
Posted by Harper on Apr 17th, 2010 in Heroes of Oz | 0 comments
I have had a few people inquire as to the reason my game has taken over three years to complete. Now, I could say that it was because of how much information I have been working to pack inside of this game (which there is quite a lot).. I could say how until the game was true to L. Frank Baum's work of all 14 Oz novels (which there is – especially a list of all major – and even a good many minor – characters) I wasn't willing to publish.. I could say how I was eagerly awaiting feedback from my group of Beta-Testers (who I really must thank profusely for all the help,...