Posted by Harper on Jul 21st, 2011 in Gauntlet Alliance, Heroes of Oz, Personal News, Uncategorized | 0 comments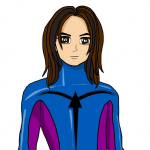 All right, so it's been a bad year. The last post talked about my father passing, and since then I've been in the hospital numerous times. Not my year. However, things have gotten better for us here at DSE, and we're on the track. Currently I'm finishing up Instant Oz so you can get a good taste of real Oz role-playing for free before Heroes of Oz comes out. I'm also putting together the Darkstar Universe Primer, an introduction to our in-house supers universe. Ideally, Heroes of Oz will be out before Christmas. That's our goal. You've been patient with us,...
Posted by Harper on Mar 25th, 2010 in Uncategorized | 0 comments
Greetings to all! Darkstar Eclectic Media is a publisher of role-playing games, books and web videos. This website is the home for all of our projects, including the Heroes of Oz Role-Playing Game and Guidebook and of the Darkstar Supers Universe. Our games are designed to be easy to pick up and play, with pregenerated characters and fast character creation if you'd rather play your own. Our fiction books and videos are meant to be purely entertainment, no bogging the story down with lessons that had to be fit in with a crowbar. Explore the site and find something that interests you. We're...